FARM FRESH QUALITY SINCE 1994
Fresh pesticide free blueberries picked daily on our 6 hectare farm. We sell our fruit locally in Apollo Bay and Colac, into Geelong and the Surf Coast, and to independent fruit shops in Melbourne. We also encourage our customers to pick their own and experience our farm first hand.
Pick your Own
Our PYO will open for the 2024 season on January 1st. So pop it in your diary for your summer get away to come down and pick some delicious blueberries! Victorian blueberries are a summer fruit so we don't open our farm gate if we don't have ripe blueberries for you to pick.
During season our opening hours are 9am to 5pm daily, 7 days a week (yes we open public holidays too!). Check our Facebook page for updates. No appointment necessary. Once the season commences we will be open to the 11th of March 2024. We have plenty of blueberries, so no need to call ahead, just turn up ready to pick!
Please remember to bring your containers in the interest of reducing plastic waste.
We can also fit in with bus day tours. Our farm is located within the beautiful Otway Ranges, less than 30 minutes from the Otway Fly (tree top walk) or an hour from Apollo Bay. We ask that a booking (for bus groups only) are made at least two weeks prior.
Our prices are $17/kg or $14/kg if you pick more than 5kgs. There is no entrance fee but there is a minimum spendof 1kg per adult.
We accept cash, eftpos, VISA and Mastercard.
We are proud supporters of the Otway Harvest Trail.
FrOZEN Blueberries
Frozen blueberries will be available again in Feburary in the below stores :
Geelong Fresh Foods
Peachs Torquay
East Fruit Market
Valeries Pantry
Greavseys
Go Vita Ocean Grove
Anglesea Fruitz
Anglesea IGA
Farmers Harvest
Garden of Eden
Wilsons (in Ballarat)
The Leaf
Colonial Fresh (Doncaster, Forest Hill, Chadstone, Malvern and The Glen)
My Home Pantry
Join Our Team
Please contact us on Facebook or via otwayblueberries@gmail.com
We are looking for pickers and packers from late December to late April.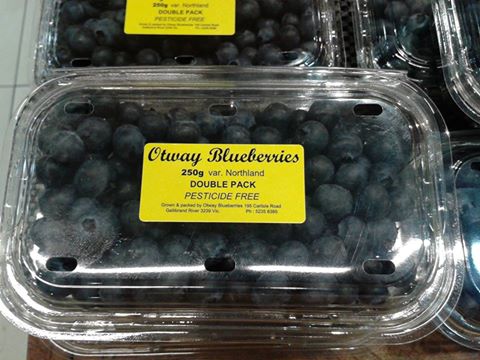 Look for the yellow sticker!
Our product is instantly recognisable in store by our yellow sticker. Our fresh blueberries will be back in stores as the 28th of December 2022. We sell in various sizes to make it more affordable to keep your family stocked up with our fresh fruit. Our blueberries have nothing sprayed on them. You can eat them straight away! No need to get them home and wash them. Now, that will please your toddler when you are out shopping!